Durban Poison is a pure sativa originating from the South African port city of Durban. It has gained popularity worldwide for its sweet, earthy smell and citrus, piney flavor. Durban Poison is the perfect strain to help you stay productive through a busy day with its energizing effects when exploring the outdoors, or to lend a spark of upbeat creativity.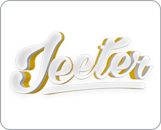 JEETER was born in the city & surburban streets of South Florida. The name "Jeeter" was a catchy slang within the local culture that was the alternative name for a joint. The slogan was quickly coined, "Pass the Jeeter" and became common language to our crew!
Fast forward to a decade later and we have brought Jeeter to life in the California cannabis markets. Built on nostalgic memories, Jeeter is now one of the leading pre-roll brands in California.