The Mai Tai strain is a tropical strain that likely gets its sweet and tangy terpene profile from crossing Maui Waui with Tutti Frutti. However, there is some debate over this strain's genetics as some claim it to be the cross between Sunset Sherbet and Purple Punch. When you open up a package of Mai Tai, you'll be greeted with notes of citrus and berries combined with hints of fresh, damp earth and tropical flowers similar to what the cocktail offers. The taste is similar to the exhale, as its flavor becomes even more like its fruity cocktail cousin.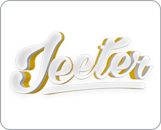 JEETER was born in the city & surburban streets of South Florida. The name "Jeeter" was a catchy slang within the local culture that was the alternative name for a joint. The slogan was quickly coined, "Pass the Jeeter" and became common language to our crew!
Fast forward to a decade later and we have brought Jeeter to life in the California cannabis markets. Built on nostalgic memories, Jeeter is now one of the leading pre-roll brands in California.