Enjoy these pocket sized vibes with Baby Jeeters
5 Pre-rolls
0.5 grams each
Introducing Liquid Diamonds – the cleanest, strongest concentrate on the market. They're concentrated THCA diamonds melted into an incredibly pure oil. With less plant material to mask the taste, these Liquid Diamond Pre-Rolls provide an exceptional flavor with the most aromatic terpenes available. With their unbelievable potency, taste and purity, you'll wish these diamonds lasted forever.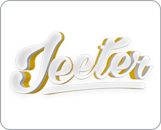 JEETER was born in the city & surburban streets of South Florida. The name "Jeeter" was a catchy slang within the local culture that was the alternative name for a joint. The slogan was quickly coined, "Pass the Jeeter" and became common language to our crew!
Fast forward to a decade later and we have brought Jeeter to life in the California cannabis markets. Built on nostalgic memories, Jeeter is now one of the leading pre-roll brands in California.