KushyPunch's Recover gummy gives you 60mg of THC with 30mg of CBD in each package, keeping the comfort levels high and stress levels low. This delicious all natural blueberry gummy soothes and heals after a long day. Popular with athletes and those that need to combat inflammation and pain post-workout, Recover offers a delicate microdose of THC, balanced with the calming, healing powers of CBD.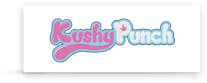 FEEL THE POWER OF THE PUNCH
Seriously potent cannabis gummies!
KushyPunch is one of California's iconic cannabis brands, and the top-selling gummy in the Golden State. Locally sourced full spectrum oil, a science-forward approach and lush full body high has made KushyPunch a favorite for recreational and medical consumers.