1 Gram pre-roll. Premium indoor flower. Infused with distillate oil and rolled in kief with two anytime matches.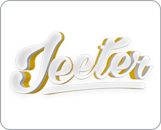 JEETER was born in the city & surburban streets of South Florida. The name "Jeeter" was a catchy slang within the local culture that was the alternative name for a joint. The slogan was quickly coined, "Pass the Jeeter" and became common language to our crew!
Fast forward to a decade later and we have brought Jeeter to life in the California cannabis markets. Built on nostalgic memories, Jeeter is now one of the leading pre-roll brands in California.